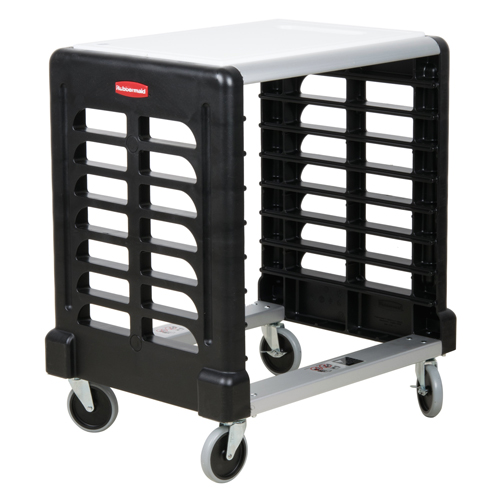 Rubbermaid Side Loader Gastronorm/Preparation Cart with 8 slots and Cutting board top, fits full size food boxes or sheet pans.
Ideal for a wide range of food preparation, transport, serving and storage tasks. Used in Hotels, Resorts, Restaurants, Hospitals, Nursing Homes.

Features of Rubbermaid 3316 Max System 8 Slot, Prep Cart Side Loader
Works with full size food pans, food boxes, sheet pans and Gastronorm size food pans - see pan size below
8 slots Side Loaded - Minimise trips between kitchen and dining room
Easy to clean Impact-resistant structural web plastic
2 swivel and 2 swivel brake 127mm dia non-marking castors
Load capacity 80 kg
Cutting Board on top
Soft, rounded corners that are easy on walls, doors and other equipment.
Heat resistant - allows hot baking pans (176C max) to be pulled directly from the oven and placed on the rack.
All certified to NSF Std. #2
USDA Meat and Poultry Group listed
Assembly required
**Non-Core Item Please contact our office for pricing and lead-time
Order Code: FG331600 BLA
Specifications of Rubbermaid 3316 Max System Prep Cart 8 slot side loader

| | |
| --- | --- |
| Dimensions (L x W x H): | 806 Lx 603 W x 918mm H |
| Pan capacity: | 8 food boxes/sheet pans |
| | 79.4 kg |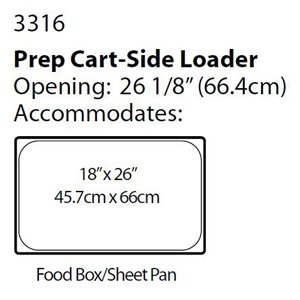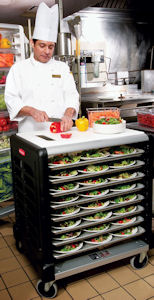 Rubbermaid

Commercial Product Experts

Rubbermaid is the world's leading manufacturer of route distribution solutions—and much more. We're a committed partner in helping to grow your business. By listening to your challenges first, our team can work with you to develop the right solutions that fit your unique distribution needs.