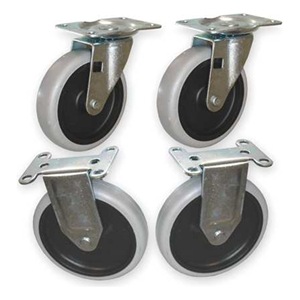 Price:
AUD $158.40
(Ex GST AUD $144.00)
Rubbermaid 4505-L3 125mm diameter Replacement Castor Kit
Fits the Rubbermaid Flat Shelf Carts 4505 4525 and Rubbermaid Utility Carts 4500 4520 4401, 4500-88, 4520-88
Features of Rubbermaid 4505-L3 Replacement Castor Kit
125mm Replacement North American Plate Castors
Included are 2 x Fixed and 2 Swivel Plate castors
Used for tilt trucks & hoppers, utility carts, utility trucks, etc.

Manufacturer: Rubbermaid Commercial Products
Order Number FG4505L30000
SKU:       RCP 4505-L3
Rubbermaid

Commercial Product Experts

Rubbermaid is the world's leading manufacturer of route distribution solutions—and much more. We're a committed partner in helping to grow your business. By listening to your challenges first, our team can work with you to develop the right solutions that fit your unique distribution needs.