Price:
AUD $89.10
(Ex GST AUD $81.00)
ProSave Shelf Ingredient Bins for use in commercial kitchens around the world feature a clear plastic sliding lid design provide quick identification and one-handed access to ingredients. Features the unique First In, First Out barrier aids in proper rotation of ingredients.
Features of ProSave Shelf Ingredient Bins
FIFO (First In, First Out) barrier aids in proper rotation of ingredients
Industrial grade construction
Smooth easy to clean surface
Sliding lid
One-handed access to ingredients, while stacked
Clasp secures lid to base to protect the contents
Three sizes available - 40, 100 or 200 Cup
Stackable maximise space
Easy content identification with clear plastic lid and ingredient labels
Integrated measuring scoop (Included)
Dedicated scoop storage for safe ingredient portioning
Model
Length x Width x Height

Metric

Capacity

Capacity

Measuring

Scoop

Flour (kg)
Sugar (kg)

FG9G6000 WHT

381 x 298 x 216cm

9.9 Litre

40 Cups

1/2 Cup

6kg

8kg

FG9G5700 WHT

597 x 292 x 427cm

25 Litre

100 Cups

0.5L

11.4kg

22.7kg

FG9G5800 WHT

597 x 488 x 429mm

50 Litre

200 Cups

0.5L

22.7kg

45.5kg
Click and drag for 360 view: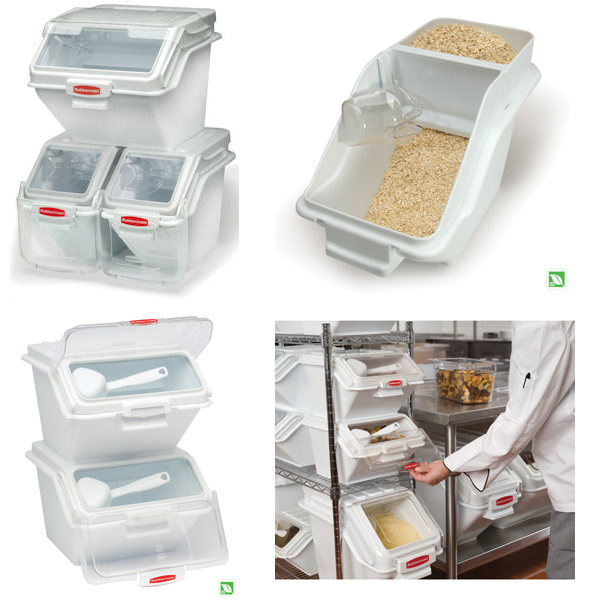 Rubbermaid

Commercial Product Experts

Rubbermaid is the world's leading manufacturer of route distribution solutions—and much more. We're a committed partner in helping to grow your business. By listening to your challenges first, our team can work with you to develop the right solutions that fit your unique distribution needs.